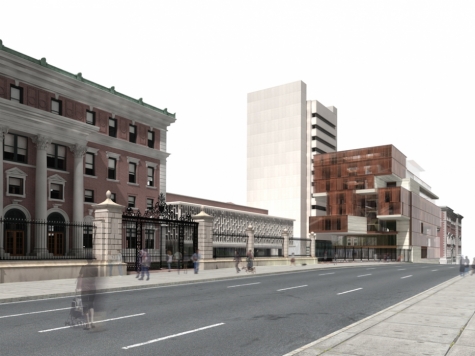 Barnard College – Nexus Invited Competition
Project Description
The placement of a building on the current McIntosh site is a sensitive and fragile operation requiring exacting rigorous consideration. Paradoxically, it also demands the kind of confidence and rich bombasity of Charles Rich's Milbank Hall. By virtue of its program intentions and siting, it cannot be a background building. However, again paradoxically, its form, materiality and spatial experience should be almost systematically derived from its enveloping physical and programmatic context. It should be at once distinctly individualistic and respectfully contextual.
What this means to us is that Barnard College seeks to imbue its students with an individualized empowerment created through an intensive engagement with and love for the complex realities of the collective—a noble intention to embody in our design for the Nexus project.
The first floor touches the earth lightly, covering as little area as possible and maximizing the open space around the building. Along Broadway, the Nexus facade extends the presence of Milbank Hall strengthening Barnard's presence on the street. The planar quality of the glass facade is nuanced by the play of deep and shallow interior space. The interior shutter and panel system at once hides and reveals the life of the building. Fixed, bold and decisive; the facade is simultaneously and continuously active, fragile and multi-valent.
From the north facade of Barnard Hall and across the lawn, the planar quality of the east facade of Nexus is seen to give way on the south and west facades to forms expressing the interior programmatic spaces. These forms reframe the south facade of Milbank Hall and define and protect the exterior spaces of Nexus. The plaza space between Altschul and Nexus is carved away and a green lawn rolls down to the Milbank parterre. This simple move reveals more of the south facade of Milbank as seen from Barnard Hall, bringing Milbank more fully into the campus landscape and celebrating its robust and lively architecture.
Under the green lawn, the plan reorganizes and gives order and light to the existing tunnel condition. Natural light is introduced through a skylight along the east face of Lehman Hall, at the Nexus reflecting pool, and along the serpentine path connecting Nexus and Milbank. Two-story spaces capture and connect the lower level to upper Lehman and Nexus.
Warm, wood-clad interior spaces interact vertically and horizontally, encouraging the random encounter, both physically and visually. The vertical and horizontal interchange of space continues through the extent of Nexus, introducing light and offering up the unexpected view, sometimes spectacular and sometimes intimate.
Programmatically and architecturally, the spaces of Nexus blur the boundaries between social and academic activities. Spatially and visually they connect to one another, to the exterior and to other spaces of Nexus.
Images
Drawings