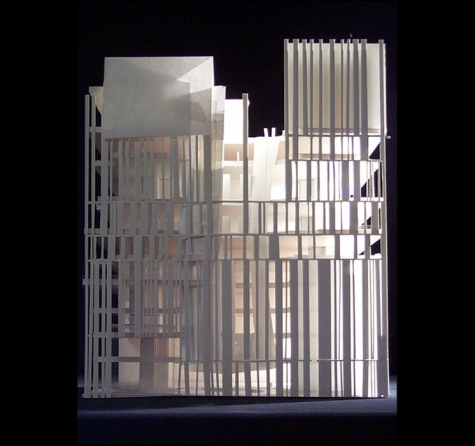 United States Courthouse Invited Competition – Mobile, Alabama
Project Description
Mobile, while sprawling into the newness of the suburbs and reshaping its perimeters, continues to maintain, exude and project a dignified difference. It is a dignity born out of its history and particular geographic location. A richness of place has developed from Mobile's diverse cultural heritage and the necessity of tolerating the heat and the hurricanes. A toughness of survival is tempered by an enjoyment and celebration of life and the festive. In Mobile's architecture this richness emerges as finely wrought iron work, brick, stucco and wood detailing, shutters and balustrades, porches and generous windows. Appliquéd onto or embedded into the architecture of substantial walls, these details give the city a sense of delicacy, almost fragility, belying its strength and resolve.
The new courthouse design seeks a dignity rooted in this specific location and in the specific mission of the judicial mandate. Seen at a distance, the building's mass is cubic in form, stable and solid. At closer range, the modulation of the building surfaces begins to appear, breaking down the scale, lending porosity and depth to the solidity. The phenomenon is one of a transitioning perception, transforming from monumental to approachable and uplifting. Surprisingly the courthouse begins to associate itself with delicate details of Mobile architecture—the porches, shutters and balustrades. The outer layer of stone and / or masonry in its verticality draws the eye upward. Its porosity moves the eye inward. While appearing delicate and permeable, it protects much of the surface beyond. Shifting in and out on the south and north facades, the masonry scrim responds to the programmatic nuances of the floors, further reducing the impact of the cubic volume. The scrim serves also to address issues of exactitude and balance, characteristics not disassociated with the courts. The scrim is a collective of vertically oriented forms gaining strength from their interdependence.
The courthouse rests solidly on the flatness of the Mobile plane, equally accessible to all. The lawned earth of Civic Square and Town Green form a grand plaza at the scale of the courthouse. The facades, further modulated by the veiling effect of the trees, become even more approachable.
Images
Drawings
Process