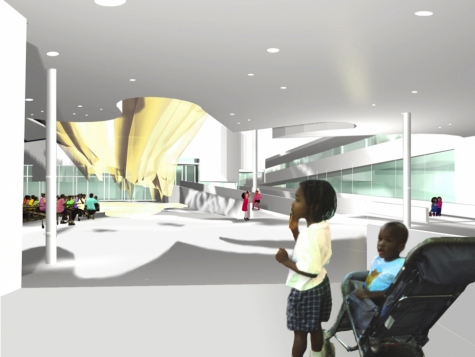 Chicago Public Schools Invited Competition
Project Description
The Big Shoulders, Small Schools competition intends to be a model for bringing educational philosophy into practice. It is also an impetus for architects to rethink typical school form. Spotlighting generally the importance of school design, the competition seeks methods of incorporating universal design techniques and small school philosophies in buildings that house a larger-than-ideal number of students.
The two schools chosen as sites for the design competition, (both slated for construction by 2004) are located on the north and south sides of Chicago and will each serve approximately 800 students in pre-k to eighth grade. The schools will serve up to 49% disabled students in grades pre-k to kindergarten and up to 20% disabled students in grades 1-8 and will be models of inclusion.
Our competition entry for the south side site privileges children, identity, context and community. By placing the school building on half of the allotted site, existing houses on then north portion of the site may be relocated to the south portion as infill. The community is sustained. Families do not have to leave the neighborhood or give up their homes. The entry also proposes that the existing Langston Hughes School be converted to lofts or apartments. The building of the new school is envisioned as a generative moment, empowering, sustaining and invigorating the entire Roseland community.
In opposition to current trends of hyper security and internalization, this shiny, glowing, glassy structure speaks to light, freshness and the strength that is possible through openness. It speaks to the fragile balances that must be maintained between the institution of education and the community at large. Toughness begets toughness; openness begets openness.
The three small schools, grades 1-8, along with the library, music, art, science and play areas are located on the upper level. The schools are located at the edge, the center, and the corner of the site, each distinguished by its particular position. The school for pre-k and kindergarten is located on the ground level along with the cafeteria, entry space, gym and administration. Inclined sidewalks at 1:20 converge near the hearth at the cafeteria, ensuring a coming together of the students from the small schools during the course of the day. From the cafeteria and entry space, the 1-8 kids see the pre-k and kindergarten kids as they arrive and depart and they have the opportunity to be involved with little kids. Visual connectedness together with physical separation conspires to simultaneously promote individual identity and greater community.
An insulating glass skin made of clear, translucent and patterned glass on a post-tensioned concrete structure is proposed. Roof surfaces are grassed for both energy conservation and recreation purposes. Mechanical systems include central heating and air as well as operable ventilator panels and in-floor radiant heat. Optional systems include solar collectors, rain harvesting and wind generation. At classroom interiors, operable blinds or shutters, storage walls, sinks and various floor coverings are suggested.
Images
Drawings
Project Origins