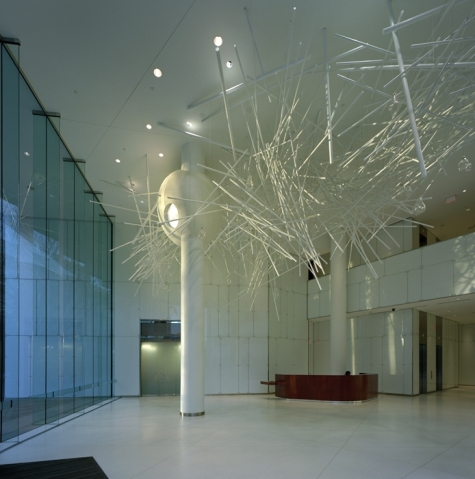 One Midtown Plaza
Project Description
Prior to renovation, the lobby of One Midtown Plaza lacked presence on Peachtree Street. On the West Peachtree side the lobby was awkwardly connected to the parking deck and lacked connection with Two Midtown Plaza. The renovated lobby gives One Midtown Plaza a new personality on Peachtree Street that is generous, open and inviting. The newly created side gallery improves the connection between One Midtown Plaza and Two Midtown Plaza and clarifies the west entry sequence from the parking deck.
The lobby at One Midtown Plaza is a bright, concave, volumetrically generous space that reaches out to Peachtree Street. Inside, hovering overhead is C78. C78 is a chandelier in the grand tradition of chandeliers. It can best be described as an intergalactic vector array, interrupted in its trajectory. C78 consists of: 14 clusters, 293 vectors, 29 orbs, 586 space coordinates, 1 parasitic-nomadic eggoid, 1 oculus, 615 tethers and 783 digital morphologies.
The open air passageway from Peachtree Street to One Midtown Plaza and through to Two Midtown Plaza is well defined and pleasantly organized by the presence of a dogwood motif perforated screen wall. Along with the invention of a new parking lobby, the entry sequence and connecting passageway are clarified.
Images
Drawings