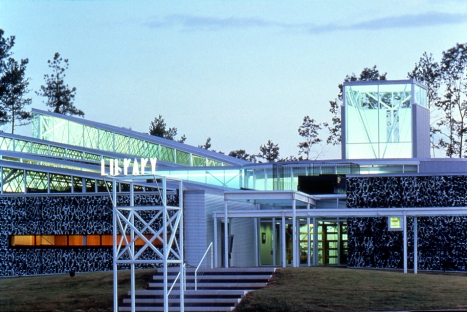 Clayton County Headquarters Library
Project Description
Jonesboro, Georgia—the project's location—is wedged in-between the southeast end of Hartsfield International Airport—one of the busiest airports in the world—and Tara, the mythical home of Scarlett. The strip between the two is folksy, hand painted (not all mass produced), a place where one is apt to pull along side a pick-up with a rack and ZZ Top coming at you through the open windows. It is a place where information is sought for practical reasons and history is personal. Scholars will not seek out obscure dissertation-supporting materials here. This library is more a filling-station for information for living life. A puppet show, a cooking class, a seed catalog . . . Easy parking. Come on in. A K-Mart for information . . .
The site proper is bounded on the north by Battlecreek Road, on the east by Jester's Creek and its associated flood plain—a wooded area lush with hardwoods and pine—and on the south and west by other county facilities. The building is located on the south portion of the site at an elevation higher than the parking lot, directly in front of the building. The entrance elevation is at the eye level of a seated driver traveling along Battlecreek Road.
The plan is organized around two axes. The north-south axis connects the parking lot, the entrance, the circulation desk and the board room. At the circulation desk, this axis intersects an east-west axis at ninety degrees. The east-west axis connects the woods and flood plain east of the site, the genealogy collection, the circulation desk and one director's office.
The building is organized functionally into two areas: the administration facilities and the public areas. The public areas occupy a large, open room which is oriented to the woods and creek. A monitor divides the space, emphasizing the line of travel toward the genealogy collection. The roofs of this space spring toward the east and the woods and are arranged to fan up toward the south allowing north light to enter at each "step". The children's services are located in the lower space, while the general collection with the tallest stacks is located where the roof is the highest.
The structure is steel frame with long span truss joists of wood and galvanized steel. The foundations are concrete footings. The exterior skin is a combination of metal sidings with a variety of textures and patterns. The general tectonic is industrial grade.
Images
Drawings
Project Origins
Process