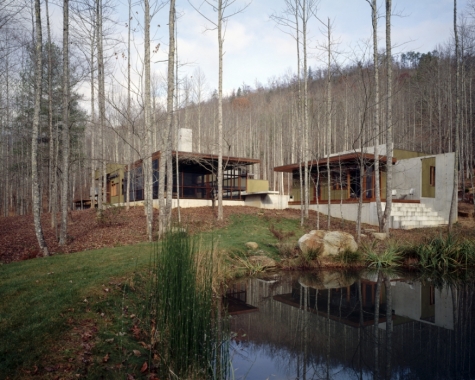 Mountain House
Project Description
From the city galleries and studios he collects regional art with the same care and affection that she nurtures the wildflowers of their north Georgia site. The site and the house respond to their dual interests. The site—remote and private—is tucked into the foothills of the Appalachian Mountains overlooking the pasture of the Hambidge Center, a not-for-profit artist retreat. At the house the screen porch vies with the living room for prominence. The two spaces, outdoor / indoor reside in a state of equivalence . . . happily.
The generous arrival courtyard, square and stone clad, lets onto the vertical space of the entrance gallery and visually onto the corridor gallery. The courtyard is the first interior space of the house. The house is a dialogue about the relationship of the natural to the manmade and the joys and wonders of both. Horizontal lines of the house slice the softly arching and curving mountain forms. Wonderfully vertical poplar trunks are framed, cropped, celebrated by the geometries of the house.
Used now as a weekend retreat, the house will eventually become the first house. A small guest room (300 square feet) detached from the house provides privacy and community. The house proper (2,400 square feet) has one bedroom and a great porch (900 square feet). A garage (500 square feet) is adjacent to the guest room.
The frame is wood, steel and reinforced concrete walls defining and punctuating the rectilinear geometry. The house is clad in stucco, redwood and glass. Windows are redwood; doors are mahogany and the wood flooring is Australian Sydney Blue. The entrance courtyard is paved with river rock pulled from a nearby streambed.
Images
Drawings