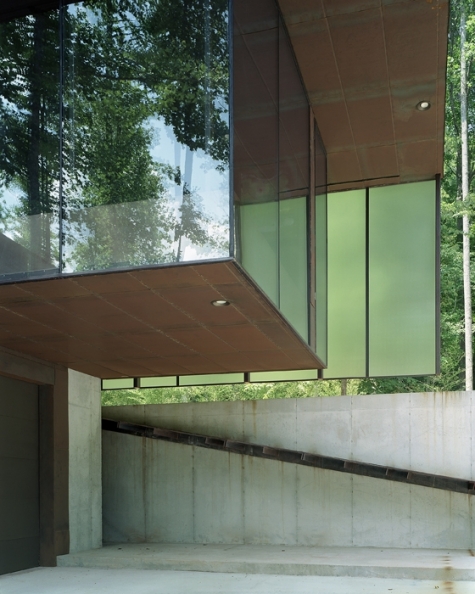 Mountain Tree House
Project Description
The Mountain House was built five years prior. It is an inside-outside place. Half screened porch and outdoor courtyards, half inside house and glass walls. Set for gardening and reading, it is a weekend retreat into the vertical poplar trunks among the foothills of the Appalachian Mountains.
But now the family has grown with grandchildren and friends, and a little more space is needed for things like tractors and dogs. The new project is a concrete garage, a steel bedroom and a bamboo deck. It, too, is an inside-outside thing, but also an up-down and heavy-light thing.
The garage is for working and gardening, the storage of tools and the occasional car. It is walled by unfinished concrete, with plain doors and long windows. The bedroom above is cantilevered over the work-yard, as open with glass walls as the garage is closed below. The little bathroom is solid, clad in steel. The walls swing wide open for outdoor showers and spring cleaning. The bamboo starts in planters on the ground and grows up through narrow slots in the deck above. The space is for sitting and viewing, in and among the fast growing canes.
The structure is wood and steel framing atop reinforced concrete walls. Deck surface and interior flooring is black slate. The ramp and handrails are self-weathering steel. Panels of the same steel, lap-jointed and welded, clad the upper room. Glass walls are either clear tempered or translucent laminated.
Images
Drawings
Process