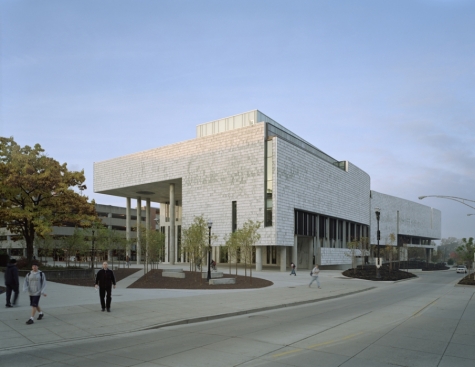 The Ohio State University – Austin E. Knowlton School of Architecture
Project Description
The site of the new school of architecture is at the western edge of the old campus, close to the river and the football stadium, at the happily congested corner of West Woodruff Avenue and Tuttle Park Place. Bounded by raw concrete parking garages to the south and the staid red brick of the business school to the north, laboratory buildings to the east and the emptiness of the stadium parking lot to the west, edged and crossed by major campus pedestrian thoroughfares, the site is a dynamic zone, capable of sustaining a connective architecture and landscape and an inclusive urban form.
Asserting the belief that a school of architecture has a commitment to teach by example to both students within and the community at large, the architectural form and urban positioning of the new school is strategically active and interactive. The facades of the adjacent buildings are the spatial boundaries of the site of the school. The building form is generated by enclosing, defining and confronting the spaces and existing buildings of this larger site. A sculpted green space between the school and the business school campus to the north modulates both the mess and vitality of the roadway and pedestrian activity. Studios overlook the newly captured spaces. Students are in the midst of the urban activity which they will study and will eventually help form and influence.
At the main entrance, the vertical circulation path begins. An inclined plane system moves up and through the building, passing studios and review spaces along the way. Faculty offices are placed along circulation patterns, visually accessible from the studios and intimately linked with the daily work of the students. The final event along the vertical path through the school is the library, a thirty thousand volume collection with reading room and reference areas. The roof garden of the library extends out and over the forecourt below, bringing the inclined plane to its conclusion above its starting point. At night the glass clad library is a lantern signaling the glorious history of architecture and the discipline of architecture as an intellectual pursuit.
In addition to the forty-five studios, sixty-five offices, an auditorium and library, program areas of the school include a woodshop, café, digital imaging facilities, computer laboratories, classrooms, an archive and an exhibition gallery.
Images
Drawings
Process
Construction