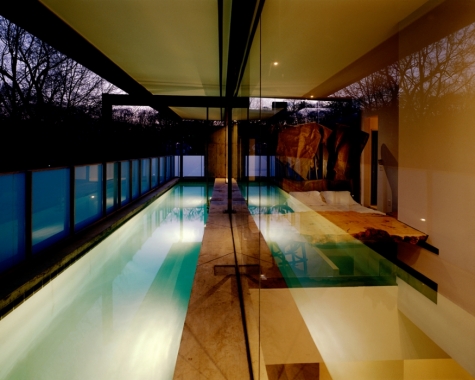 64 Wakefield
Project Description
Opal ripped through Atlanta . . . a dislocated hurricane . . . leveling trees and wreaking havoc. A 6 foot caliper water oak . . . one of the grand residents of the neighborhood . . . totaled the brick monopoly-block box house from ridge beam to foundations, inciting a major reconsideration of the premises.
The site, small with a shared driveway, fronts south looking across the street toward the neighborhood park, swimming pool and tennis courts in the valley and a nature preserve on the slope beyond. The idea of a lap pool drove the process . . . dreams of exercise and relaxation . . . recollections of the Josephine Baker house . . . visions of the Italian rationalists' health clinics . . . Only the 70 foot width of the site afforded the length necessary for the pool. So the pool went to the second floor, spanning the spaces of the floor below and gathering in the south light. Shielded from the street by a translucent glass wall but open to the sky and air, the roof deck and pool challenge the very notion of public/private. Passersby hear the splashing. We know which neighbor is walking which dog by the sound of the collar and the leash. No swimsuit is required.
The pool is constructed of poured-in-place reinforced concrete with a plaster and vinyl lining. The house is a wood frame structure with a stucco and glass enclosing surfaces. Interior materials include painted gypsum wall board, cementitious board flooring and stairs and minor details of raw steel.
Images
Drawings
Process