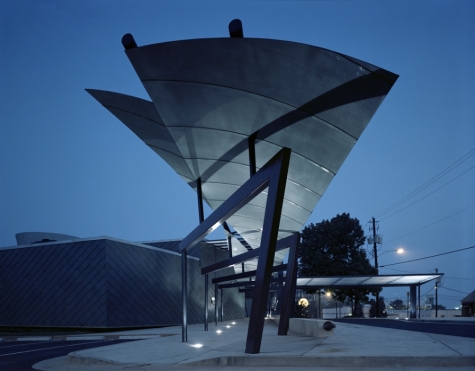 Buckhead Branch Library
Project Description
The Buckhead Branch Library is a 22,000 square foot neighborhood facility located in a unique nouveau riche strip of Atlanta. The Buckhead neighborhood is the foreground of an cultural shift where the boutique succeeds the pool hall. The neighborhood is a rupture, showing signs of a downtown with growing pains.
The existing Ida Williams Branch was a parking meter… past expired… unable to communicate with speed and clarity. The function of today's public library: a locus for knowledge within a civic landscape bounded by mobile sprawl and strip shopping.
The particular site is atop a crest that commands a spectacular view of downtown Atlanta. The new building consumes the large narrow portion of the site in-between the distinct frontages while perching itself in full view towards downtown. An array of canopies intensifies the pedestrian scale relationships along Buckhead Avenue and deposits the reader at the helm of the spectator city, air-conditioned and detached.
The plan organization is linear: sidewalk, entry sequence, circulation desk, reference and main reading room. Children's services, public meeting room and periodicals are located in "saddle bags" off the main linear circulation path.
Building materials and systems include structural steel frame, painted metal roofing, slate siding, and cast-in-place concrete foundation walls.
Images
Drawings
Project Origins
Process