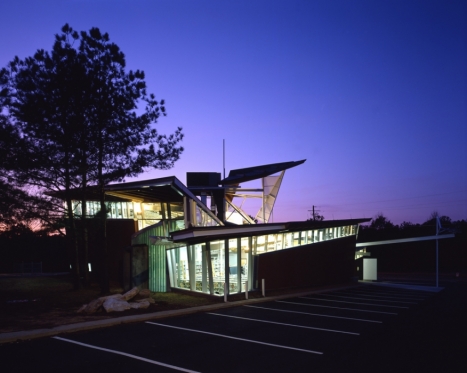 Carol Cobb Turner Branch Library
Project Description
The Morrow Branch Library; a 10,000 square foot fifty-nine thousand volume community facility; is an institutional loner in a horse pasture bounded by a strip shopping center, a wet weather draw, a busy county road and subdivision houses that are sideways-facing and self-concerned, that refuse to acknowledge the road's existence. The site is flat, filled with heat, and yellow topped bitter weeds, loblolly pines and june bug beetles. Its most extraordinary feature is its ceiling of blue sky and bright clouds brushed by pine needles.
The 1 acre site is consumed by the program of building and parking—the best view is up. The scheme reflects this feature with glass and views high up and enclosing walls down low. Other influences are more abstract, distant connections, such as the headquarters library, the county courthouse, the close-by neighborhoods Rex and Ellenwood and the cardinal points of the compass. Along with the property lines, the lines of influence from these entities give form to the building.
The building plan is, in effect, an asymmetrical, skewed dogtrot with a dividing breezeway / corridor with rooms off both sides. To the north of the corridor are the public meeting room, toilets and administrative services. Intruding into the corridor is the circulation desk with visual access to both building entrances, the restroom and the public meeting room entrances. The children's collection and the general collection are to the south. Along the south property line, just outside of the children's and general collection is a small garden with a depressed area that will hold water and act as a reflecting ditch
A vertical steel and glass tower marks the center of the site and of the building signifying the center of a new reality for the branch library. It is a negative center support from which the mushroom-like ceiling / roof forms emerge and rise toward the perimeter and rest on a simple post and beam steel structure. Exterior walls are of glass and Georgia red-clay-colored synthetic stucco. The roofs are tire tread rubber.
Images
Drawings
Project Origins
Process
Construction