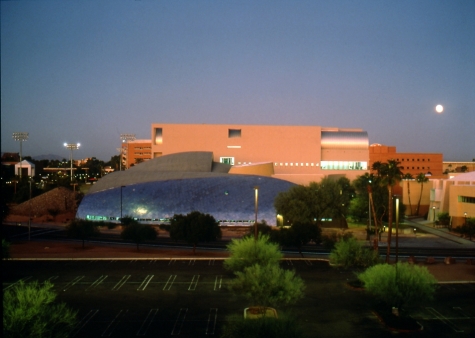 Arizona State University – John J. Ross-William C. Blakley Law Library
Project Description
The Arizona desert landscape provokes mis-readings. Plants look like animals, animals look like rocks, rocks look like animals, plants look like rocks, animals look like plants . . . eye foolers. The sun bursts over the horizon not bothering with some filtering effect of east coast greenery, but immediately filling an enormous sky with incredible light. Textures and colors vibrate. On the ground plane and along the horizon every form takes on a hyperness, incredibly legible and overly important.
The site of the law library expansion is on the fringe of the orthogonally planned campus of Arizona State University. The Arizona landscape, the curve of the east property line, and the geometrical determinism of the existing law school building and a number of other buildings scattered at the campus edge all communicate permission for exuberant form-making. The dynamic forms of the new law library both contrast and compliment the existing building, Armstrong Hall. When seen together, neither building is dominant; rather, the two are harmonious unconventionalities, forming a College of Law campus within the greater university campus.
An oasis-like plaza links the existing building and the new building. The portion of the site south of the new building is desert-like, with "magic mountain" on a north-south axis with the core collection dome and on a east-west axis with Lemon Street and the business school beyond the playing fields.
The forms and spaces of the scheme are organized over and around the distinct functions of the library: technical services, circulation services, the core collection and the other discrete collections. The exterior forms and interior spaces work in concert to modulate the intense Arizona sunlight providing myriad architectural experiences.
The library, named in memory of two prominent Phoenix attorneys, has one of the finest law collections in the Southwest with over three hundred ten thousand volumes and microform volume equivalents. The collection includes a broad selection of Anglo-American case reports and statutes, as well as legal treatises, periodicals, encyclopedias, digests, citators and administrative materials. It includes growing special collections in the areas of international law, Indian law, Mexican law and law and technology. The library is also a selective U.S. government depository.
Accessible shelving for the library's expanding collections and study space at carrels, tables and lounge seating are located throughout the library. The library has a thirty station computer lab, as well as LEXIS and WESTLAW rooms each containing ten stations. The new library also has twenty-seven meeting and study rooms, a microforms facility and a classroom.
Images
Drawings
Project Origins
Process