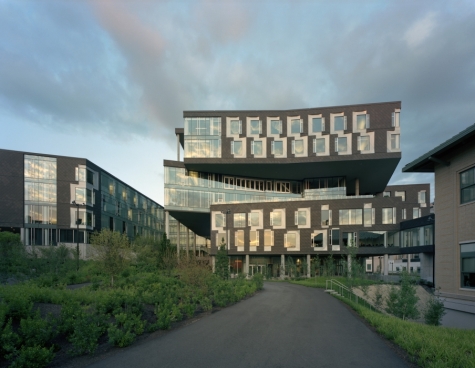 Carnegie Mellon University – Gates Center for Computer Science and Hillman Center for Future Generation Technologies
Project Description
The Gates Center for Computer Science will complete a computer science complex on Carnegie Mellon University's west campus. The building will house the three departments of the School of Computer Science providing offices, conference rooms, open collaborative spaces, closed project rooms and a reading room for more than one hundred and twenty faculty, three hundred and fifty graduate students, one hundred researchers or postdoctoral fellows and fifty administrative staff members along with a more public component of ten University classrooms, a two hundred and fifty seat auditorium, a café and two University computer clusters.
The following design principles have been used to guide the project conceptually:
The empowerment of the individual is fundamental to the mission of an academic institution.
Intelligent, creative people possess an innate desire for the freedom of choice. They privilege order over the systematic and demand the maintenance of individuality within a respected collective.
Architecture and Landscape Architecture have the capacity to sponsor the uncompromised coexistence of seemingly irreconcilable differences.
At Carnegie Mellon, interdisciplinary and collaborative work between both its academic units and its faculty has been and continues to be one of its defining strengths.
As the School of Computer Science grows in size and diversity, its physical facilities must sustain and encourage a successful environment of collective difference.
The site chosen for the Gates Center has an unusually complex set of conflicting technical, functional and aesthetic challenges that, with the addition of the Gates Center, can serve to transform the West Campus area into a visually and physically integrated campus precinct.
The Carnegie Mellon Campus plan and many of its buildings have distinctive, enduring characteristics that embody the highest ideals of the institution's founders. They were exceptional works of their time and serve as exemplary benchmarks for an architecture and landscape architecture of our own time.
An architecture that represents Carnegie Mellon University's and the School of Computer Science's exceptional status among the world's leading academic institutions will be best informed from within the project's own situation.
An inclusive process that reinforces reciprocity within the university, strengthens relations with its neighboring communities and deepens its commitment to the stewardship of our natural resources will add richness and credibility to this project.
Images
Drawings
Process